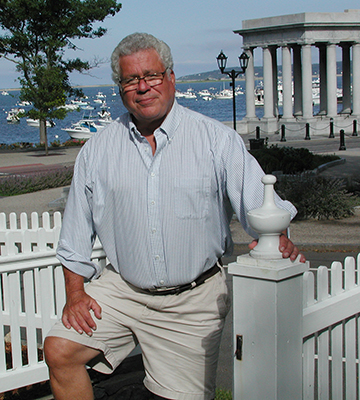 DAVID MONTEIRO (b. 1956)
David Monteiro is a native of Plymouth, Massachusetts. As a child, he was gifted with a talent for drawing that became more evident throughout his young adult years.
David continued his education at Massachusetts College of Art where he graduated with a Bachelors Degree of Fine Arts. Shortly after graduating, David began a successful career as proprietor of Monteiro Design, a Boston based graphic design studio. Aside from his artistic talent as a graphic artist, he excelled in technical and "free hand" illustrations.
Later in life, David developed a passion to paint. He recalled that his education at "Mass Art" taught him the traditional style of painting using a simple palette that consists of primary colors. Over the past several years David has advanced his training by attending several plein air workshops with various influential artists.
Though David spends many hours in the studio producing what is commonly called "studio paintings", he is drawn to paint on location regardless of weather conditions. David travels the New England coastlines and rural countryside to capture the beauty nature has to offer.
David's first solo exhibition of plein air paintings was a sell-out. In addition, David was awarded the "Rudolph J. Schaefer, III Emerging Artist Award" at the Maritime Gallery at Mystic Seaport's "33 International Maritime Art Exhibition" Mystic, CT. He was also honored with the prestigious Joseph Gazzola Award for Excellence in Art during his first year as member of the Copley Society of art, Boston, MA. He was selected to the "Between the Shining Seas" exhibit at the Wisconsin Maritime Museum and the Minnesota Marine Art Museum as member of the American Society of Marine Artists. David's painting "Mayflower - Pilgrimage to Freedom - 1620" was selected by the Littleton Coin Company to appear on the Plymouth 400th Anniversary commemorative coin. David also has been featured several times in the "American Art Collector" magazine.
His work is rapidly gaining international recognition from private collectors throughout the United States and Europe.